While social media is embraced by many as a mean of democratization of politics (in a tradition that goes far back to 80's and early 90's when the enthusiasts of on-line environment believed in a direct democracy to be possible because of the Internet), politicians see it as an opportunity to spread their message to new audiences. How does it work in CEE? Let's take a look at the Czech Republic as an example (with some comments on Slovakia and Poland too).
A little introduction to social media in politics in the Czech Republic is probably needed. In USA social media are told to be a really major factor especially since Obama's campaign in 2008. At that time, Facebook in the Czech Republic was still just gaining momentum (150k users in Q4 2008), the first party to start a FB page was ODS (major center-right party, one of the leading parties) in October 2008, followed by the Green party in December 2008.
But the first time the general public realized the power of social networks and its possible efficiency as a political campaign tool took place in May 2009. It was caused by the infamous "egg incident". During the election campaign for European Parliament elections led by social democrats (the winner of 2008 regional elections) a young student attacked the chairman of the party Jiří Paroubek with an egg. It unleashed a storm of similar attacks organized mainly on Facebook, where over 50k people became members of a group named "An egg for Paroubek in every town".
Social democrats accused civic democrats (ODS) of organizing the movement, but they denied it. The tension between sympathizers and opponents of social democracy got bigger. On some of the meetings there were conflicts when bodyguards attacked even peaceful protesters. Situation culminated on 27th May in Prague, where social democrats were showered with eggs.
Afterwards the organizers of the original group asked the members to express their opinions in a peaceful way since the attacks would draw positive sentiment towards social democratic "victims". However, the attention Facebook received from major mass media was unprecedented and the question whether young voters can be attracted by social media presence was raised. In post-communist countries, there is still the notion of young people being more favorable towards the center and right-wing parties than general population. Especially the communist party has a significantly weaker support among the young people in the Czech Republic and the most popular left-wing party SMER in Slovakia is in the same situation.
2010 parliamentary elections in the Czech Republic
There is an interesting study (written as a BA thesis by Jenda Perla, a social media maniac) about the usage of Facebook by political parties in 2010 elections (he also wrote a sequel about how parties continue to use their Facebook Pages AFTER the elections that was presented on New Media Inspiration 2012 conference; both texts are in Czech only). The two parties that used Facebook most in the campaign were TOP09 (a new party with center-right program, led by the strong and respected personality of Karel Schwarzenberg, with a catchy slogan 'More than you think') was the winner among first-voters. TOP09 created a FB app that gave the fans a possibility to convert their profile photo in style similar to the promo posters of TOP09.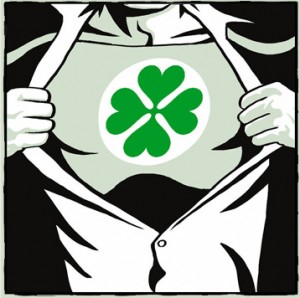 Also the Green Party made quite some effort in activating their fans – creating a picture of "green superman" that was used by their supporters. The Green Party blogged and its current chairman, Ondřej Liška (@ondrejliska) is one of the few active Czech politicians on Twitter. The Green Party lost its cause mostly because they disappointed many of its voters – some were disappointed by taking part in the previous government, others were angry because of the fall of the government (when two MPs left the Greens and stigmatized them as a badly organized party). Even quite a strong support among bloggers and various Internet opinion makers wasn't enough and the Greens didn't gain the 5% needed to enter the Parliament.
The most successful campaign, however, wasn't created by any of the parties, but by a group of people around the director Petr Zelenka: a video "Persuade Your Granny", featuring two young popular actors, Martha Issová and Jiří Mádl, which was a plundered copy of Sarah Silverman's famous video, was created and when it leaked, it got over half a million views on YouTube in just a couple of days. You can watch the video below (I guess it kind of works even without fully understanding the language). Its message is targeted on first voters and it basically says: "don't vote the left-wing parties, Vote (new) right-wing parties" – and I believe it might have helped TOP09 and Věci Veřejné in their remarkable success.
Two small parties – the Czech Pirate Party and Free Citizens Party (Euroskeptic, libertarian), both with a significant number of supporters who are very active in social networks – are worth a mention. But both parties are still perceived as too small to be taken seriously (Catch22 – you don't get attention of mainstream media – especially TV – unless you have around 4 % – and you don't get 4 % unless you're visible in mainstream media).
The power of the personal profile
Still, most politicians and political parties underestimate the potential of social networks. There are exceptions among Czech politicians. A good example is Zdeněk Škromach – the social democratic senator was one of the first from his party to fully embrace the possibility of a direct contact with his supporters. The significant difference is that he really uses his personal profile – no assistants or social media managers are involved. He takes photos of journalists during press conferences, shows his passion for computer games, and writes a detailed diary of his activities (related to both his job and his personal life). As various newspaper commentators have mentioned – you don't have to be a fan of social democrats, you might disagree with Mr. Škromach, but you can hardly deny he seems to be a nice guy.
However, what works well for his personal profile is not that visible on his Facebook Page. And here we come to a serious conclusion, which is not valid only for politicians.
Facebook prefers personal profiles to Pages. That's why it definitely makes sense to work with them as much as possible. The "smart" and up-to-date politicians were told to create a Page, since that's how Facebook wants you to do it. Those Pages are usually really poor. Those "stupid" ones who kept it simple on their personal Facebook profiles (and use them as normal people do) won.
Another example of this is the already mentioned Ondřej Liška. Since he's a young guy with a lot of friends among people with cultural and academic background (he taught religious studies and later spent some time in Brussels), his personal profile is much more successful than his page – which he abandoned for almost half a year.
You might have heard about the case of the Croatian president Ivo Josipović – he got his five minutes of fame in 2010 when he was said to complain about the 5,000 friends limit. He was mocked as a simpleton – he should have created an official Page and directed his fans there! But later you could read the comments that he actually had a Page (rather a successful one, check it out) and did everything right, but still he wanted to react somehow to people that send him a friend request – not to offend them ignoring it.
One of the best features of the launch of Google+ if you ask me – Subscriptions on Facebook

It made it very easy to follow interesting personalities on a much more personal level than on the Page. And since Facebook favors the profiles to Pages, it makes sense to use them when appropriate (and in line with Facebook Terms and Conditions). I believe the Subscription feature is still highly underestimated.
My suggestion to politicians is to promote this feature. They can also allow comments for everybody or limit them only to "friends of friends". Of course they can still use Facebook for even more personal stuff using lists, where they can include only some of the users. But it's important to be aware of what you post – even to friends and family – since it could be spread anyway. We have seen that a Facebook profile of some of the politicians is almost without a trace of politics (they talk about children, sports and cooking) – but I don't think it's a smart step. If you decide to follow a politician, it's not because he makes great lasagna – you follow themas a politician. Of course it's important to have a reasonable mix, so that the profile doesn't look too official either.
Twitter – or why less is more
Twitter in the Czech Republic (and Slovakia as well) is not a mainstream social network (as it is in the USA), but rather a place where the influencers meet. There is a special service called Klaboseni.cz ("klábosení" means "chatting" in Czech) which is an archive and search engine for Czech and Slovak Twittersphere. It covers around 100 thousand accounts (whose owners claim the Czech Republic or Slovakia as their location or tweet in Czech or Slovak) and it indexes over 20M tweets! But the "core" of the Czechoslovak Twitter is made up of users with more than 500 followers – and that's less than two thousand people. In my opinion, this is not a disadvantage (or a reason why to write off Twitter as unimportant) – completely the other way around. With 3.6M Facebook user profiles – how to find the important ones? On Twitter, you can do that much more effectively. Still, though politics is surely one of the topics people like to discuss on Twitter, not many politicians had joined the network. An exception is Edvard Kožušník (@kozusnik), a MEP (who has since lured some of his colleagues from the ODS, too, including a possible Presidential candidate, Přemysl Sobotka – @premyslsobotka).
It's interesting that Twitter gained higher popularity in Poland, which might be connected to the fact that Jerzy Buzek (@jerzybuzek), the President of the European Parliament till February, has popularized Twitter among Polish politicians. Radek Sikorski (@sikorskiradek), the Minister of Foreign Affairs of Poland, doesn't even update his FB page anymore – he only sends his tweets there automatically. One of the heavy Twitter users is Janusz Palikot (@palikot_janusz), a charismatic leader of his own party "Ruch Palikota" that made it to international headlines with his open critique of the Catholic Church, support of marihuana legalization and other ideas that still shock many in Poland. On Twitter, he's found a perfect environment for spreading his quips. And he's not alone – there are many Polish politicians on Twitter: Pawel Olszewski (@pawelolszewski), Cezary Tomczyk (@ctomczyk), Pawel Graś (@pawelgras) or Agnieszka Pomaska (@pomaska – I like her website with the Twitter feed – it looks just great).
Karel Schwarzenberg
In the Czech Republic, the Minister of Foreign affairs Karel Schwarzenberg also has a Twitter account – but it's a fake one – @schwarzenbergk (on the other hand, it's probably much funnier than an official one could ever be – the profile photo shows "the fürst" sleeping since he openly admitted that he takes a nap if the meeting gets boring). (update: I have found out there is actually also his official account! Not as funny, but still worth following: @schwarzenberg_k)
 I'm quite sure that social media will become more important for the politics (on both a national and regional level), but as for now, they don't have a high impact on people's decisions. At the same time, Czech political parties don't use them too much / well.
 In Prague there was recently a huge meet-up of pirates – the Pirate Party International is rather a symbolical activity than a real organization. But the success of the Pirates in Sweden and Germany is an indisputable fact: it's not just the success itself (8.9 % in state elections in Berlin), but also the rewriting of German rules of politics. German politics is based on coalitions, so the small parties (the Free Democrats and the Green Party) have always had a chance to gain more importance than what's their share of votes. Such a growth of support for the Pirates seems unlikely in the Czech Republic or Slovakia, but the smart use of social networks might work for smaller players (like the Green Party or the Free Citizens Party) who are unable to get enough mainstream media coverage.
Create your own social network
It has been repeatedly claimed that one of the major factors in Obama's success was the fact that all social media activities were in a common hub – at barackobama.com – the portal probably didn't have tens of millions of unique visitors, but it served those who wanted to help and be active on their own. These local gatekeepers were a key element to the winning grass-root campaign. And you can hardly do that on Facebook. In CEE countries the part of population which is active on social networks isn't very interested in politics. A huge problem is also the credibility of the parties – the online campaigns play on the note of urge: act now or everything is lost. Then the voters see that the very people who were trying to scare them are caught with dirty hands. And the same "trick" (vote for us or the communists will eat you) can be repeated only a couple of times before people get apathetic.
How to make people believe that you take the whole thingseriously? In my opinion, this has less to do with social media and more with – I don't know, ethics? Still, I believe it's crucial to open up. To show that you care and that you answer all questions, even if they're not very pleasant. I have found one example among the Czech politicians – Jan Farský is the mayor of Semily, a lovely town in Eastern Bohemia. He studied law and become a politician just because he could no longer watch his hometown being ripped off by the ruling coalition of the social and civic democrats (which is very common in the Czech Republic – the two parties often fight each other on a national level, but in many cities and towns they rule together and their close ties to some of the local "barons" are a public secret). He managed to get together a group of independent personalities sharing his ideas about how to make the town and its economy more transparent and efficient and because he chose them wisely, he – to a surprise of many – actually won.
As a rising star he was given a place on the list of TOP09 candidates – the very last position. But due to preferential votes, he jumped over many of his colleagues and eventually got to the Parliament. His reputation was the best – and he soon lost it. He brought up an amendment law that was meant to regulate online lotteries and betting systems. But it written, it eventually moved the responsibility (and fines) on the Internet providers. The storm it created among the Internet professionals was foreseeable; after all, Jan Farský himself didn't vote for the new law. But he still managed not to back off and kept talking with people, even with his fierce opponents.
To end up on a positive note – we long for changes and we complain about politics. But to change anything, the public must be more active, too. The role of the media as a democracy watchdog is being questioned these days, so the participation of the general public is even more important. Luckily, we have witnessed the rise of various initiatives to bring the politics closer to ordinary people. The more ordinary people engage, the better.
More Fresh in Social Media
blog comments powered by

Disqus