I met Olga in 2010 and from the first moment I knew we were going to hear about her a lot. I was supposed to write a reader's report on her MA thesis "Facebook as a Marketing and Communication Tool for Libraries" and I was excited. She spent almost a year taking care of two Facebook pages, Tomas Bata University Library in Zlín and the public library in the town of Vsetín. When I looked at the pages, I saw they were much better than most commercial pages. They might not have any fancy apps to lure fans, but each status was a little gem. Did the library need to be closed earlier? They showed a neat picture. Did they want to present the information on how to use a journal database? They posted a comic strip. What about a welcome page? There was one, with a lovely slideshow. I read more and more, e.g. about the library computer desktops with the link to the library Facebook page. It costs nothing and works great.
And then I learned you already had some experience due to your project Guerilla Readers. Olga, can you tell the readers more about it?
Guerilla Readers was a student project during our MA studies at KISK (the Information and Library Studies Department), Masaryk University in Brno. The idea was to explore the use of guerilla marketing for libraries and projects aimed to attract more people to reading. I must say it was the turning point for me. With my colleagues, I had a chance to implement a lot of interesting projects without many limits. I was in charge of my first Facebook page (The Book of My Heart – a Czech public TV show), we created a great calendar titled Library Is Sexy and readers' badges, we wrote and shot a new librarians' anthem. We also prepared a few guerilla events: we pasted up posters with pictures from The Little Prince at an exhibition about planets, hung books in trams, created a pedestrian crossing for readers and blocked the traffic with literature characters. We also blogged a lot, gave advice and had fun. It was simply awesome. After university, we used the Guerrilla Readers brand for our commercial work in social media marketing.
One of your projects surely raised some controversies – tell us more about the calendar. Whose idea was it?
I think Hedvika's. I got more into it and became a coordinator of the project. We shot the calendar in the Moravian Library and there are real librarians and students of library science in the pictures. It was quite a challenge for all of them: after all, it's not easy to run around the library naked and be photographed. We were taking pictures for 20 hours in a row and I could tell you funny stories about it for hours! When the calendar was published, it was sold out almost instantly (1,500 copies). So we made it available for free download. It was covered by the media and we got mentioned in most of the periodicals. It provoked a discussion. There were many reactions, both positive and negative. But it helped the cause. Libraries made it to the front pages and people started thinking about them and discussing what they were like.
So, you studied library and information science. Do you think it's a good background for social media professionals?
I think it's one of the best. Josef Šlerka correctly says that a social media marketing specialist should be able to read and write, and we are good at it. The big advantage of librarians is their ability to work with information on a professional level. We can find, process, evaluate and abstract the information. Our curriculum also included a lot of classes about communication, rhetorics and social skills – that's very important, too. Add some SEO, web architecture, coding and web based topics in general. In Brno you get ready for your future job in application seminar projects – similar to our Guerilla Readers project. The fact we don't take traditional marketing courses and don't study the theory might be even an advantage. In marketing, I follow my emotions, not guidelines.
Your TBU Library page is doing so well it became the most liked page of Tomas Bata University – how did it start?
I don't really know. It happened out of the blue. My advantage was that I had free rein and I could do whatever I wanted with the page without asking for permission. I write it in an informal style, share what I find, chat with students and react to their comments. I simply have fun with the TBU Library page, without much calculation and without strategies. It helps to know what's trendy and cool. I also recommend hanging out with the students – going for a drink, visiting their parties, getting to know them. Then it's much easier to create a FB page that would meet their needs.
Geeks were quite surprised to meet a librarian who doesn't look like their aunt and who is actually quite trendy. I remember your opening presentation at Barcamp in Vsetin in 2011 where you totally got the public tweeting about libraries. Do you think it's an advantage to be a girl among the majority of guys? Or have you experienced any prejudices?
I think there are a lot of geekettes in the Czech Republic and I don't act like one. So I think that's not the main reason. But as a librarian you face some rather negative stereotypes. That caught my attention. Many people claim they study information science, not library science. Or they say they want to become information specialists. I decided to be a librarian and promote new and positive stereotypes. At the beginning of my Barcamp presentation I put it boldly: I'm a librarian and I'm going to talk about libraries. A lot of visitors told me afterwards that they thought about leaving. But during those 40 minutes I did my best to persuade them there's a new generation of librarians who are competent, awesome, trendy and willing to do things better. Before I retire I want the old prejudices disappear and I want to see librarians in a new light. I want to bring back their prestige and define a new love brand – the library!
You work for Kniha Zlín publishing house. How did they found you? And what is your job there?
It started through the TBU Library. We needed to raise some money for the Bata Audiobooks project and we proposed creating and administrating a Facebook page for Kniha Zlín free of charge for three months. Marek (the publishing house owner) liked the page a lot, so our cooperation continued. It grew bigger over time, and now I'm in charge of online marketing in general. I even plan offline campaigns and I take care of the distribution and promotion of e-books. Kniha Zlín is a great publishing house and I'm glad I can work for them. I meet plenty of interesting people, I talk to reviewers, authors, journalists, I can put my hands on building the Czech e-books market, and I can see through the whole publishing process from the beginning till the end. I have a special attachment to books and Kniha Zlín gives me plenty of freedom, so I can jump into projects that would be impossible elsewhere. That's one of the reasons we are seen as one of the most progressive publishing houses in the Czech Republic.
The Czech translations of Jo Nesbø's novel published by Kniha Zlín surfed the wave of the Scandinavian detective/thriller boom started especially by Stieg Larsson. But still, a small publishing house, an unknown author (who has already been – rather unsuccessfully – introduced to the Czech readers), and you made the TOP10 bestseller list. What were the key elements in the campaign?
We invested a lot of time (and some money) into the introduction campaign and we were lucky. We took advantage of Stieg Larsson's popularity, took care of the book (the superb translation, the quality of the paper, binding, and cover), created the website for Jo Nesbø, posters and leaflets, and mainly kept the buzz among booksellers and distributors who helped us sell the title afterwards. The brand of Kniha Zlín helped us, as well – it's perceived as a 'modern publisher of quality world literature'. The only detective novel in our editorial plan drew attention. We relied on the online environment and tried to contact various databases and websites about books and blogs. We started offering reading copies, and most importantly, we talked to the fans, organized contests for them, reacted to their ideas and really fulfilled their wishes. Last, but not least, we also offered e-books with social DRM which are available for all the platforms. With Jo Nesbø, we took the first four positions on the e-book bestsellers list in the Czech Republic.
We believed in Jo Nesbø's brand and his charisma and skills. His recent visit of Prague has been a huge success. The press conference was crowded and the autograph session was full of fans. Jo Nesbø shot a video on his iPhone claiming that he had never had such an attendance before, so he had to capture it for his agents who probably wouldn't believe him.
You've mentioned reading copies (a note to the readers: I'm one of those guys who actually got already a couple of them – you can find my reviews on my posterous blog under 'reading copies'). As far as I know it was the first time somebody has tried this in the Czech Republic. Does it work?
In fact, Euromedia have been the first publishers who tried this, but then they stopped. Their reading copies had a weak promotion. We tried to promote the book really hard, so most of the public and the press believe we were the first. They also think we were the first to introduce Jo Nesbø in the Czech Republic. Few publishers realize that bloggers are important and that there are many influencers among them. It's good to have them on your side, offer them books to review and listen to their opinions. Reading copies became even more popular when we started giving out copies in the electronic form. We can approach more people with them.
You are well known among the conference organizers for your kick ass visual style of presentations (dear readers, head to Olga's SlideShare account – you will like them even if you don't understand Czech). I'm always a bit jealous since I simply can't make one like you. What's the trick?
I spend a lot of time on presentations and I like them a lot. It's worth it: people react to them in a great way and my presentations are easier to remember. My presentations are not full of information; they serve rather as a bonus to my speech. I try to make them chic and to draw attention to the speech. I believe people go to my presentations to listen to me, not to read my presentations. I prepare each slide separately, I don't have any templates and I use PowerPoint just to put it all together. Presentations are like movies, you need great pictures, balanced colours, a good composition, a strong message and a well-structured story. And you have to play with them.
You've always seemed to be a great enthusiast and social media believer – but do you think there are negative aspects?
The on-line environment changes very fast, and this is especially true about Facebook. One day you create a mind-blowing tab and the other day Facebook introduces Timeline for pages and changes the proportions and rules. It's not easy to stay up-to-date and you have to follow the new stuff. Another problem is the novelty of the whole industry. Many times you just try and see what happens. Moreover, there are also self-proclaimed "specialists" who only damage the reputation of social media among companies and clients. Also, the clients often don't know what they want because they don't have enough experiences with social media. You have to talk to them, persuade them and sometimes even push them in the right direction. Another problem is that social media are time consuming and that you often need crisis management. Nothing is for sure – one day you can fail and get flooded with negative comments, lose fans or popularity. Facebook pages, Twitter accounts and all social media channels are like little babies – they need a lot of attention and the results are visible only in the long run. I perceive the social media activities more as customer care than direct marketing.
You live in a small town near the borders with Slovakia, in Vsetín, and you work in the city of Zlín which is quite far from the capital. What are the advantages and disadvantages of such a setting? Is there any dream job that would make you relocate?
Valachia is far from Prague or Brno, that's a disadvantage. I have to commute to meetings, conferences and sessions. You can also catch big fish in big cities. In cities, there's also a strong community of experts who like to meet, educate themselves and influence each other. In Valachia, I'm cut off from this and I miss it. On the other hand, I really like living far from the hassle. Time passes more slowly here, the streets are emptier, the people are closer to each other, surrounded by the nature, it's more peaceful, and there are fewer tourists… And there are also places without the Internet and a mobile signal! People enjoy themselves in a different way here and there's generally a different atmosphere. If I lived in Prague, I might get big in business and become "famous" – but I would have my first stroke before I turned 30. Here I am happy in a smaller library, I have commercial side projects, and I travel, give lectures and enjoy it with a chance to escape whenever I want to. I think it influences a lot the things I do and the way I do them. I don't know about a job that would make me change my mind. If they'd offer me a job at Apple, I'd ask whether home office is an option

What have you been up to these days?
I'm preparing my new course that I am going to teach at the Faculty of Multimedia Communications (Tomas Bata University in Zlín) the next academic year. I'll focus on social media marketing. Since it's an optional subject, I'm just starting to promote it on Facebook, using posters and a video I've created. I'm really looking forward to it. I'm sure it'll be a humdinger and I hope it'll catch the students' attention. In Kniha Zlín, I'm preparing for the autumn season which will introduce a new Nesbø's book (hopefully I'll work on some guerilla projects) and new titles in the TEMA edition. I'm also working on a campaign for the book called Tweeting the Universe – it'll include QR codes and a microsite connected to Twitter. Let's hope it will become a hit, too. And there are plenty of conferences and presentations just ahead of me (as usual), so I won't even name them

Among other things, Olga is also a singer in the band called The Kitchen. The song is in Czech, but I think you can enjoy "Juliet on Facebook" anyway

Five tips from Olga Biernátová
Pinterest is a great source of inspiration. I use it to look for pictures and videos for my Facebook pages. Pinterest reflects what's hot and you can pin all the stuff you like for later use.

Try the online editor PicMonkey (free, no registration needed) for picture editing. Every photo gallery should look well, and even illustrative images often need a few touches. Before Photoshop launches, I'm already done editing it in PicMonkey.

Talk to your Facebook fans. The approach "I'll post something and people will get crazy in comments" does not sound too much
professional to me. As an admin, you should have your say, be able to discuss the issue and express your opinion.

If you want to reach and engage with a specific target group, you should become one of them. Do you have a lot of teenage fans? Then you should know that while Bieber is out, the movies with Selena Gomez are hip and the best series include Gossip Girl, Glee or Vampire Diaries.

Before going to an event to meet other geeks, try to find out what your followers look like to minimize your awkward looks when approached by a stranger. Every marketer should know his or her fans!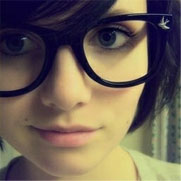 Olga Biernátová
librarian / social media marketer
www.nofreeusernames.cz
twitter

linkedin

slideshare
More Success Stories
blog comments powered by

Disqus