BabelGuide is proud to present: BabelCamp – a social media barcamp for Central Europe that will take place in Brno, Czech Republic on August 31st. Prepare for an extraordinary event: over 40 interesting speakers from 7 countries, an enthusiastic audience, sophisticated networking, great catering and an awesome after-party. For free.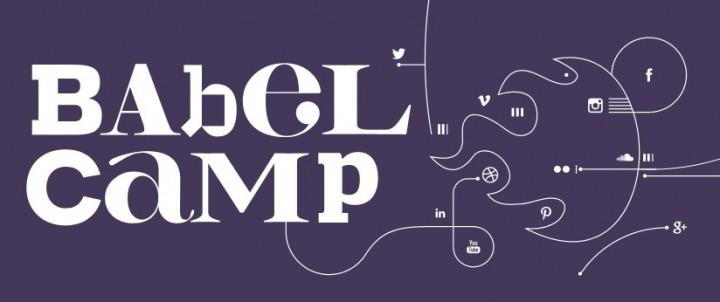 BabelGuide was created with the motivation to connect people across the CEE region. To write about interesting projects and personalities, and to show to the outside world we have something to offer too. And with its re-launch in May 2013 I realized that in order to succeed it'd be great to create an event where people would meet in person and actually get together. It was my wife's idea to organize a barcamp – and that's why we invite you to join us for BabelCamp today!
There are many conferences about social media. They often take place in fancy venues, where the audience is made up of corporate managers and the presentations are either sales pitches or boring talks that repeat the same old basics. I know you're fed up with that – so am I. BabelCamp is different. From the people for the people: aimed at professionals, who want to share their experience. The real numbers, the fail stories, the flow behind the projects. I want us to inspire each other, to make new things happen.
We've oraganized a bunch of interesting speakers to guarantee you won't be disappointed. But there's still space for you to submit your own topic – the organizational committee will choose the most interesting ones. And you will also have the chance to decide to present on the spot: in the afternoon there will be slots for last-minute rapid-fire presentations. Armed with just a flip-board, you can present whatever you have in mind, in true barcamp style.
All presentations will be in English in order for people from all over the region to understand. You don't have to be a native speaker – most of us aren't. Content is king, should you have something interesting to share, don't hesitate to do so.
To sum up:
When: August 31st (Sat), from 10 AM to 5 PM (after party from 8 PM until the early morning).
Where: Fléda Club, Štefanikova 24, Brno, Czech Republic (one of the best clubs in Brno, three stages, bar, catering). Brno is conveniently located – no more than 8 hours by train or bus from all capitals around! Bratislava – 1.5h, Vienna – 2h, Prague – 2.5h, Budapest – 4h, Krakow – 5h, Munich – 7h, Berlin – 7.5h, Warsaw – 7.5h, Ljubljana – 8h. And of course you get there even faster by car!
Who: See the list of confirmed speakers and there're more in the pipeline!
Registration will start by the end of July – follow @babelguide on Twitter, become a fan on Facebook or subscribe to our RSS feed to be the first to know! You can find the related Facebook event here: BabelCamp.
Questions, ideas, sponsorship (though it'll be a really low-cost & DIY event, we want to make it right and so a bit of cash is still needed) – please contact Adam at adam@zbiejczuk.com for more details. Spread the news – a mixed, international audience is what we're looking for.
As a bonus: you can look forward to some cool extras – like 3D printers, Open Sauce collective, electro-swing DJ and more. BabelGuide will also follow with introduction of the speakers, so stay tuned for more and tweet with the #babelcamp hashtag! See you in Brno!
More Fresh in Social Media
blog comments powered by

Disqus